Project Developer in Quantum Technologies
Employer

Forschungszentrum Jülich GmbH

Location

Germany (DE)

Salary

Collective Agreement for the Public Service (TVöD-Bund)

Closing date

May 22, 2022
View more
Discipline

Position Type

Job Type

Organization Type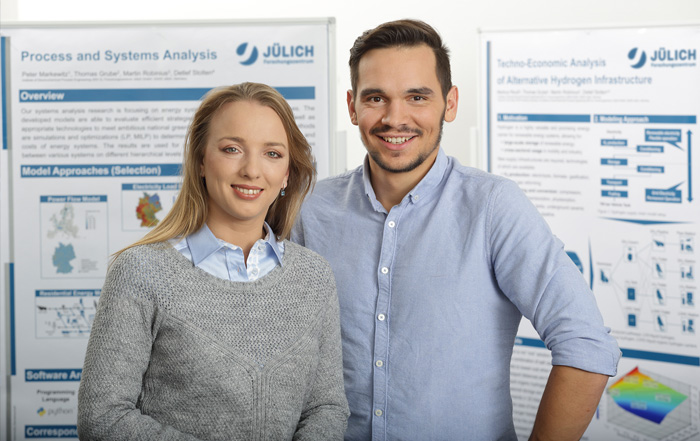 Conducting research for a changing society: This is what drives us at Forschungs­zentrum Jülich. As a member of the Helmholtz Association, we aim to tackle the grand societal challenges of our time and conduct research into the possibilities of a digitized society, a climate-friendly energy system, and a resource-efficient economy. Work together with around 7,100 employees in one of Europe's biggest research centres and help us to shape change!
The Peter Grünberg Institute – Quantum Control (PGI-8) – specializes in novel optimization strategies for emerging quantum technologies. These emerging technologies aim to provide transformative changes to our society, including how we think about information, and unlock vast calculations for the natural sciences, logistical problem solving, and high-performance computation. Our group has pioneered the application of quantum optimal control methods to quantum computation and many-body quantum systems. This includes the development of physical models and model reduction techniques as well as algorithmic advances of in-situ optimization and machine learning to tackle the complex processes inherent to scalable quantum devices. The institute is involved in a large number of scientific consortia and projects at the European, German and local level. In particular, the director of the institute has leading roles in the European Quantum Flagship governing body and the Quantum Industry Consortium.
The Peter Grünberg Institute – Quantum Control (PGI-8) – is looking to recruit a
Project Developer in Quantum Technologies Your Job:
You will coordinate, structure, and further develop organizational processes in the PGI-8 institute.
You will implement appropriate project management processes and methods to carry out the institute's third-party funded projects (EU and federal funds) and contribute to making them a success.
You coordinate the cooperation with external partners and stakeholders and work closely with the responsible infrastructure units at Forschungszentrum Jülich.
You organize project meetings and project-related events and conduct them with preparation and follow-up work. You will also coordinate decision-making processes and prepare decisions.
You will be involved in planning and submitting applications for research projects and take on the administrative part of the corresponding funding applications.
You communicate with local, national, and international project partners, including project meetings, and coordinate knowledge transfer.
Your Profile:
You have a master's degree in a business- or science-related field or comparable professional experience.
You have professional experience in project management in multi-stakeholder projects. Ideally, you also have experience in third-party funding management at a university or research institution.
You bring interest and a basic understanding of the world of science and are open and adaptable to its dynamics and unconventional approaches; an understanding of quantum technologies is an advantage but is not required. Experience in science management and knowledge of report writing (e.g. technical or economic terminology) or proposal writing are also advantageous.
You are used to work independently, with colleagues and conceptually. You can set priorities, meet deadlines, and work on several tasks at the same time.
You have excellent communication skills in German and English.
Our Offer:
We work on the very latest issues that impact our society and are offering you the chance to actively help in shaping the change! We support you in your work with:
A large research campus with green spaces, offering the best possible means for networking with colleagues and pursuing sports alongside work
International, interdisciplinary, and exciting working environment at an attractive research campus, conveniently located in the Cologne-Düsseldorf-Aachen city triangle
Varied and challenging tasks in a dynamic, diverse, and internationally oriented institute
Extensive range of continuing education opportunities
Flexible working hours in a full-time position with the option of slightly reduced working hours
30 days of annual leave and provision for days off between public holidays and weekends (e.g. between Christmas and New Year)
Targeted services for international employees, e.g. through our International Advisory Service
If desired, there is the possibility of combining the project developer position with a part-time scientific postdoc position
We offer you an exciting and varied role in an international and interdisciplinary working environment. The position is initially for a fixed term of two years with possible long-term prospects. Salary and social benefits will conform to the provisions of the Collective Agreement for the Public Service (TVöD-Bund) depending on the applicant's qualifications and the precise nature of the tasks assigned to them.
We welcome applications from people with diverse backgrounds, e.g. in terms of age, gender, disability, sexual orientation / identity, and social, ethnic and religious origin. A diverse and inclusive working environment with equal opportunities in which everyone can realize that their potential is important to us.
We look forward to receiving your application until May 22, 2022 via our Online Recruitment System!
Questions about the vacancy?
Get in touch with us by using our contact form. Please note that for technical reasons we cannot accept applications via email.
# 10 BEST EMPLOYERS IN GERMANY 2022​​

Get job alerts
Create a job alert and receive personalized job recommendations straight to your inbox.
Create alert